Garnet
Garnet birthstone
Meaning and history of the garnet birthstone Jewellery
The name "garnet" comes from the Medieval Latin Granatus, which means "pomegranate", in relation to the similarity of the red color.
Garnet has been used as a gem and abrasive since the Bronze Age. A necklace studded with red garnet adorned the ancient Egyptian pharaoh.  Even the ancient Roman signet ring featured a garnet tagrio used to emboss the wax that holds important documents in place. Sometime seen in the famous movie with Russel Crowe in the Gladitor.
Medieval priests and aristocrats liked the red garnet. Garnet is actually a group of several minerals. Five of these (Pyrope, Almandine, Spessartine, Grossler, Andradite) are important gems. Pyrope and almandine range from purple to red. Another variation is spessartine which is found in stimulating shades of orange and yellow, while Andradite is predominantly yellow to green (gemstone varieties Demantoid).
Grossler probably has the widest range, from colorless to yellow, reddish orange, orange red, and rich, bright green called tsavorite.
The Smithsonian's antique pyrope hair comb is one of the most famous pieces of garnet jewelery (Pyrope comes from Pyrope, Greece and means "eyes of fire"). A large rose-cut garnet is at the top, as if the Queen was quietly investigating the court. This tiara-like jeweled pyrope garnet comes from a historic mine in Bohemia (now part of the Czech Republic), and these rich red beauty is the Victorian era in which this work was made. (1837-1901) was popular and very popular.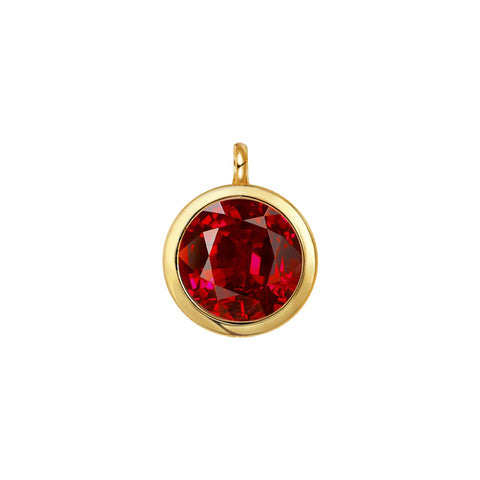 Health Benefits
Most of the western world are sceptical when it comes such notion. Sometimes it pushed out into the realms of hippies and gypies but having travelled the world extensively, it certainly open my mind. During my visit to India, according to Hindu astrology, Garnett induces greater self-confidence and spiritual clarity to eliminate negative emotions (depression, guilt) and promote creative thinking and peace of mind. In ancient and medieval times, gems such as garnet were also thought to have anti-inflammatory properties and calm angry minds. Is it a placebo or truth? Without being salesy, there is only way to find out given our incredible design and value.
Garnet Birthstone Care and Cleaning 
Garnet types range in Mohs hardness from 6.5 to 7.5. This means that this birthstone is more vulnerable to damage than ruby, sapphire and diamonds. Not all garnets are suitable for everyday wear, but they are great for earrings, brooches and pendants. Think about how to store garnet jewelry. Rubbing on hard gems (think diamonds, rubies, and sapphires again) can scratch them. And garnet can damage soft gems like opals and pearls.
Most grenades are not handled. However, in rare cases, some garnets may be filled with crushing, and the practitioner may try to increase the apparent transparency of the gemstone by filling the crushing that reaches the surface with a substance such as glass. Such treated stones require special attention. Anyway, it is always safe to use a soft brush with warm soapy water to clean the grenades. Ultrasonic cleaners are usually safe, except for cracked or cracked rocks. Steam cleaning is not recommended.
    Apollo- CAD Designer Maestro
——————————————————————————————
Honed craftsman courtesy of Sheffield Hallam University, explorer of deep psychological human needs for inspiration
"

Be the creator of someone's happiness.

"